Ingredients
for Home-Made Non-Toxic
Cleaning Products
This page is open for suggestions. You are invited to submit your recipies for home-made non-toxic cleaning products. Watch this page grow. Eventually it might become the most complete collection of non-toxic ingredients available.

---
This Page:
Coke
After-Shave Toner
All-Purpose Cleaner
Alice's Wonder Spray
Complete Line of Inexpensive Safe Products
.
List of LINKS to related toxic and non-toxic sites
---
Basic Natural Ingredients
Some examples of basic non-toxic readily-available ingredients are:
Coca Cola (toxic, but readily available)
Frugal household alternatives:
salt
steam
borax
lemon
vinegar
botanticals
tea tree oil
baking soda
orange peel oil
artgum erasers
corn cob crumbs
sugar cane extract
Herbs
Rosemary -- antibacterial
Grapefruitseed Extract -- antifungal
Lanvender -- antibiotic, antifungal, antiviral, antibacterial
Eucalyptus -- antibacterial, antifungal, antiviral, antibiotic
Lemon -- antibiotic, antifungal antiviral, antibacterial
Patouli -- antibiotic, antifungal
Lime -- antibiotic, antibacterial
Peppermint -- antibacterial
Orange -- antibacterial
---
Here is a link to a site that lists several wonderful all-natural cleaning product recipes.
This site has lots of information about natural green house cleaning, plus holistic and sustainable information.
http://www.nancysnatural.info/index.html
---

All-Purpose Cleaner
Norma Lehmeier Hartie
Harmonious Environment
norma@HarmoniousEnvironment.com
914-739-8966 or 914-400-8399
http://www.HarmoniousEnvironment.com
Fill a spray bottle with half water and half distilled white vinegar and add a spoonful of biodegradable soap. When ready to use, combing baking soda and distilled white vinegar. Mixing creates a science-project like foam. I love this mix and keep finding new things to clean with these two miracle ingredients. I never measure. Use this mixture a few times and you will figure out how much to use for what project. Buy distilled white vinegar by the gallon and pour some into an easy-to-handle bottle, and keep a large box of baking soda on hand.
This mix cleans all kinds of things, including:
a. Stubborn stains (let sit, then rinse)
b. Stainless steel
c. Water fountains
d. Silver
e. Brass
f. Stained glass
g. Windows and mirror
This recipe (and a whole lot more) can be found in the book, Harmonious Environment: Beautify, Detoxify & Energize Your Life, Your Home & Your Planet, available in September 2006 at bookstores or from Lingham Press: http://www.LinghamPress.com
---

Alice's Wonder SprayTM
All Purpose Household Cleaner

Ingredients/Supplies: Liquid soap or detergent, white distilled vinegar, borax, purified water, essential oil for fragrance, 16oz. trigger spray bottle.
Recipe: Mix 2 tbsp. of vinegar with 1 tsp. borax. Fill the rest of the bottle with very hot water. Shake until the borax is dissolved. Add 1/4 cup of liquid soap or 1/8 cup of liquid detergent. To scent, add 10-15 drops of an essential oil (a combination of lavender and lemon works well.)
Special Notes: Because minerals in the water inhibit cleaning, it's best to use purified or distilled water. It's also important to dissolve the borax in hot water so that it doesn't clog the spray nozzle. And don't mix the soap and vinegar directly together, because the soap will clump up -- nmix the vinegar, borax and water first and then add the soap last. Borax is an eye irritant and can be harmful if swallowed. Keep out of reach of children.
How to Use: Spray and wipe. Use as you would any other all-purpose household cleaner. Use on refrigerator, walls, tile, shower, shelves, toilets. Because it is not as chemically powerful as commercial cleaners, give it a little more time to work on difficult stains. One batch will last at least 6 months.

Clean House, Clean Planet
by Karen Logan
published by Pocket Books
To order, call
(800) 223-2348
or go to amazon.com
If you would like to order a ready-made all-purpose cleaner that costs even less than Alice's Wonder Spray,
contact me at petrich@whidbey.com
---

Aftershave Toner
Ingredients
Aloe Vera Gel 15ml
Witch Hazel 50ml
Patchouli floral water 30ml
Rose Water floral water 15ml
Glycerin (vegetable) 10ml
Benzoin Tincture 2ml

Essential Oils
Tea Tree 5 drops
Rosemary 2 drops
Chamomile Roman 6 drops
Frankinsence 6 drops
Sandalwood 1 drop
Cassia 1 drop
Mix all ingredients together in a dark glass bottle
and store in a cool dark location.
This toner has a shelf life of
approximately 6 months.
This formula makes 125 ml
---
Coca Cola
COKE
In many states (in the USA), the highway patrol carries two gallons of Coke in the truck to remove blood from the highway after a car accident.
You can put a T-bone steak in a bowl of coke and it will be gone in two days.
To clean a toilet: Pour a can of Coca-Cola into the toilet bowl and let the "real thing" sit for one hour, then flush clean. The citric acid in Coke removes stains from vitreous china.
To remove rust spots from chrome car bumpers: Rub the bumper with a crumpled-up piece of Reynolds Wrap aluminum foil dipped in Coca-Cola.
To clean corrosion from car battery terminals: Pour a can of Coca-Cola over the terminals to bubble away the corrosion.
To loosen a rusted bolt: Applying a cloth soaked in Coca-Cola to the rusted bolt for several minutes.
To bake a moist ham: Empty a can of Coca-Cola into the baking pan, wrap the ham in aluminum foil, and bake. Thirty minutes before the ham is finished, remove the foil, allowing the drippings to mix with the Coke for a sumptuous brown gravy. I wouldn't do this, though, if it breaks down metals, what's it adding to the gravy from the aluminum foil?
To remove grease from clothes: Empty a can of coke into a load of greasy clothes, add detergent, and run through a regular cycle. The Coca-Cola will help loosen grease stains.
It will also clean road haze from your windshield.
Farmers in India have discovered that common colas, like Coke and Pepsi, can be sprayed on crops and function as an effective and affordable pesticide. Although the Coca-Cola corporation says this is impossible, literally hundreds of farmers now claim the soft drinks kill the bugs on their cotton plants as well as any other pesticide. http://www.organicconsumers.org/toxic/pop.cfm

FYI:
1. The active ingredient in Coke is phosphoric acid. Its pH is 2.8. It will dissolve a nail in about 4 days.
2. The commercial trucks carrying Coca-Cola syrup (the concentrate) must use the "Hazardous Material" place cards reserved for highly corrosive materials.
3. The distributors of coke have been using it to clean the engines of their trucks for about 20 years!
QUESTION: Are you maybe drinking too much soda?

Rebuttal
For a rebuttal, go to http://www.snopes.com/cokelore/acid.asp
Urban Legends Reference Pages © 1995-2005
by Barbara and David P. Mikkelson

Their sources:
Allen, Frederick. Secret Formula, New York: HarperCollins, 1994. ISBN 0-88730-672-1 (p. 209).
Pendergrast, Mark. For God, Country, and Coca-Cola, New York: Charles Scribner's Sons, 1993. ISBN 0-684-19347-7 (p. 191).
Poundstone, William. Big Secrets, New York: Quill, 1993. ISBN 0-688-04830-7 (p. 25-46).





You be the judge. Do your own experiments.
How do you use Coca-Cola?
---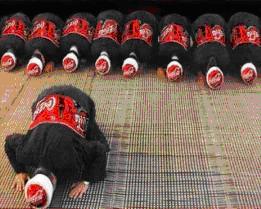 ---
Best Option
No time to mix your own ingredients?
Email petrich@whidbey.com
for information on how to
convert your home to products that are:
safe

fresh

unique

non-toxic

non-caustic

environmental

no animal testing

recyclable containers

remarkably high quality

fully guaranteed even if used

wholesale prices, rebates, profit sharing

delivered directly from the factory to your door
---
To top
Return to HOME page
Return to NON-TOXIC
Look at TOXIC STATISTICS
Go to ENVIROTOPICS
More information: LINKS TO RELATED NON-TOXIC SITES