Envirocycle

Composter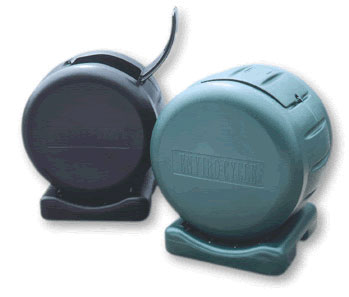 The Envirocycle Composter/Composteamaker produces quality compost more quickly and easily than conventional composters by its rolling mixing action which keeps the ingredients well mixed and aerated.
The Envirocycle Composter/Composteamaker makes compost, tea, and organic liquid plant food that is so much appreciated by the gardeners. This liquid can be collected in the unique composteamaker base.
No messy digging to turn the compost pile. Simply give the drum a few turns and your compost remains well mixed.
Compact, durable and user-friendly

Aeration occurs through small openings on the drum

Lockable lid prevents access to the compost by small animals

The drum is indented for easy gripping and rolling

The base is able to collect up to five gallons of liquid fertilizer or

compostea

Option of direct drainage of base into ground

Year-round composting is now possible
This system ideally suits today's urban lifestyle, and it fits perfectly on a balcony, in a garage or in the garden.
| | |
| --- | --- |
| | (H) 31.5" x (W) 26" x (D) 20.5" |
| | |
| | |
| | $140.00 (Call or email me and I will match or beat any price.) |
(Shipping ranges from $33.00 to $54.00)
Throw away your pitchfork and Produce Compost Faster
This excellent compost bin makes it easier and faster to generate nutrient rich compost. Say Goodbye to those messy hours spent in the compost pile, simply give the drum a few turns and your compost remains well mixed.
Even better, the base of the composter collects liquid, producing up to five gallons of compost tea with no additional effort! Compost tea is full of nutrients, and is a great way to fertilize vegetables, flowers and even houseplants.
Easy Compost Removal removal -- simply roll the tumbler to the area where you want the compost, open the door, and remove the compost from the bin.
To remove compost tea, pick up the base and open the drain to pour your compost tea into a bucket, or directly onto your garden or houseplants.
The base has eight rollers so you can easily spin the tumbler.
Takes about four to six weeks to create ready-to-use compost under normal conditions, or just

two

to three weeks in ideal conditions.

easily

handle the amount of organic waste suitable for composting generated by an average family.

Produce 450 to 900 pounds of compost per year

Has a volume of seven cubic feet

Tumbler is made of recycled plastic.

Aeration through top and bottom openings allowing for better animal resistance.
Dimensions:

26" x 20.5" x 31.5"


. . .
Return to ENVIROTOPICS


. . .




For more information, or to order:


petrich@whidbey.com

Toll-free:
(877) 713-7858

<![if !vml]><![endif]>
---
Go to HOME page